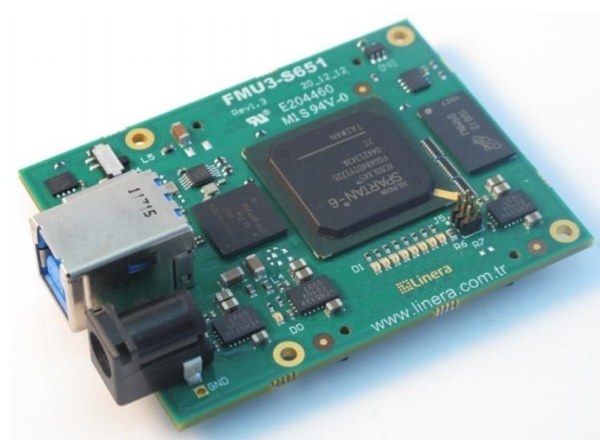 Linera FMU3-S651 – USB3 development board
The Linera FMU3-S651 is a USB 3.0 integration module based on the Spartan 6, able to get a performance over 340 MiB/s
Main Features :
65mm x 50mm board size
USB 3.0 Connectivity, including software drivers and APIs
Cypress EZ-USB FX3 – 100 MHz 32b data bus to a USB 3.0 port
Xilinx Spartan6 LX45 application FPGA (Available also with LX150)
1Gbit DDR3 SDRAM (Optional 2 or 4 Gbit)
MicroSD card slot, accessible from FPGA
Very easy to integrate: Single 5V supply
Programmable via USB 3.0 port, JTAG or the on-board flash
Two Samtec RAZOR BEAM™ LSHM pitch 0.5mm high speed board-to-board connectors to mount on a host-board
148 user I/O signals. 71 differential pairs
8 User LEDs on-board
Pin-compatible with FM-S651 series
On-board, programmable clock generator with 3 output clocks, with available SSC
Breakout board available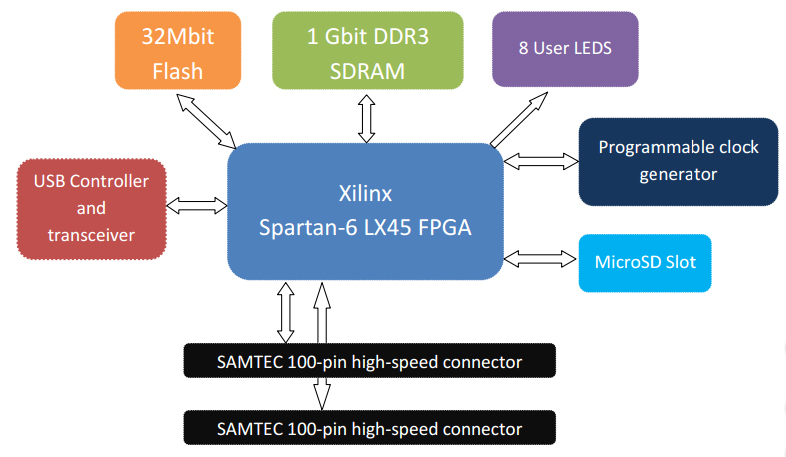 USB3 CONNECTIVITY
FMU3 series FPGA modules are equipped with a USB3.0 port.
The on-board FPGA can communicate with a host PC through the USB 3.0 port with unprecedented speed (~340MB/sec sustained transfers)
EASY INTEGRATION
FMU3 series FPGA modules can be mounted on a carrier board using 2 high-speed connectors.
There are 148 IO pins available to the end-user.
The board is supplied with drivers and API for easy USB 3.0 communication with a PC.
FLEXIBILITY
The on-board FPGA on FMU3 series modules can be programmed via the USB port, via JTAG or via the on-board Flash. There is a Micro-SD card slot accessible via the FPGA and 1Gbit DDR3 SDRAM.